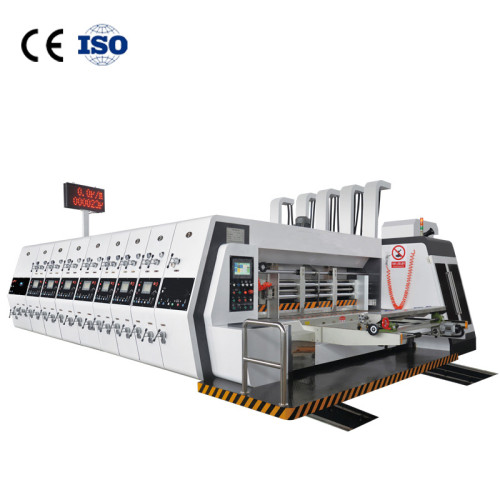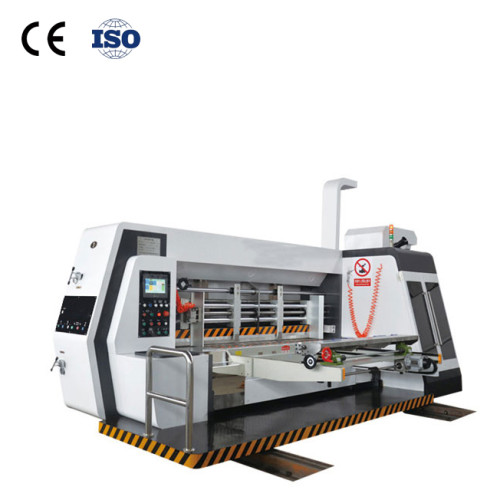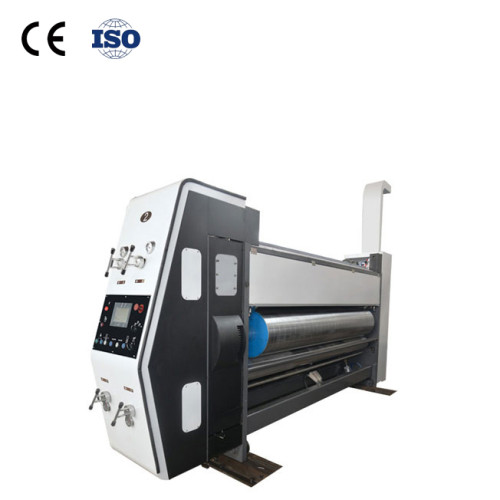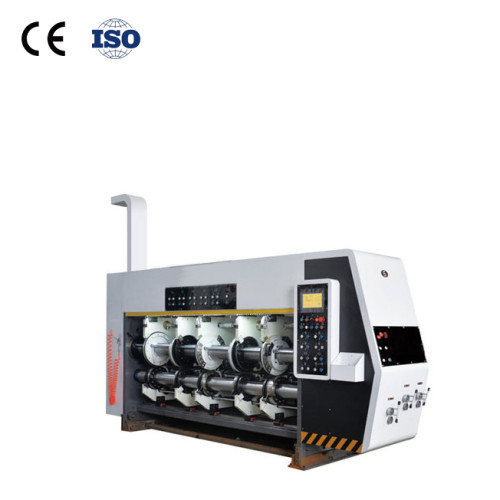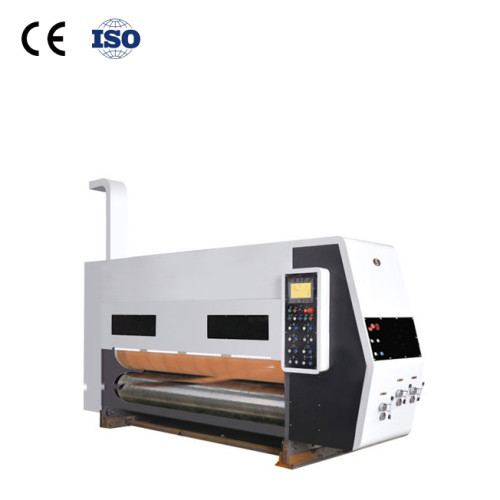 Automatic Flexo Printing Slotting Die-cutting Machine for Corrugated Carton Box Making
Item specifics
Maximum feed size (mm)

120x2500
Minimum feed size (mm)

350x600
Maximum speed (piece/min)

150
Paper feeding precision (mm)

±1.0
Thickness of standard printing plate (mm)

7.2mm
Description

Automatic Flexo Printing Slotting Die-cutting Mach
Technological parameter:
Project/Type

ZYKM-B1022

ZYKM-B1224

ZYKM-B1228

ZYKM-B1424

ZYKM-B1428

ZYKM-B1624

ZYKM-B1628

ZYKM-B1632

Maximum speed (piece/min)

150

150

140

150

140

120

120

100

Paper feeding precision (mm)

±1.0

±1.0

±1.0

±1.0

±1.0

±1.0

±1.0

±1.0

Maximum feed size (mm)

1000x2300

120x2500

1200x2900

1400x2500

1400x2900

1600x2500

1600x2900

1600x3300

Minimum feed size (mm)

300x600

350x600

350x600

400x600

400x600

450x600

450x600

450x600

Size of drawing paper (mm)

1300x2100

1500x2500

1500x2900

1700x2500

1700x2900

2000x2500

2000x2900

2000x3300

Maximum printing area (mm)

1000x2200

1200x2400

1200x2800

1400x2400

1400x2800

1600x2400

1600x2800

1600x3200

Printing set (mm)

±0.5

±0.5

±0.5

±0.5

±0.5

±0.5

±0.5

±0.5

Thickness of standard printing plate (mm)

7.2mm

7.2mm

7.2mm

7.2mm

7.2mm

7.2mm

7.2mm

7.2mm

Minimum slotting interval (mm)

Positive knife

160x160

160x160

160x160

160x160

160x160

160x160

160x160

180x180

Scalpel

270x65

270x65

270x65

270x65

270x65

270x65

270x65

290x70

Maximum groove depth (mm)

250

300

300

350

350

400

400

400

Slotting accuracy (mm)

±1.5

±1.5

±1.5

±1.5

±1.5

±1.5

±1.5

±1.5

Die cutting precision (mm)

±1.0

±1.0

±1.0

±1.0

±1.0

±1.0

±1.0

±1.0

Paper feeding unit:
· Roller leading edge paper feeding system, independent electronic shaft, extended paper feeding. Adopting international advanced technology, the system is stable and the paper feeding precision is high.
· The suction fan assists in feeding paper, and the air volume is adjusted by frequency to ensure the smooth feeding of the curved cardboard. Suitable for 3, 5, 7 pressed corrugated board.
· The front bezel is manually adjusted and the dial is displayed for direct convenience.
· The left and right side flaps are individually adjusted and displayed digitally.
· The tailgate is electrically adjusted, which is simple and convenient.
· Double conveyor roller mechanism, the first group of paper feed rollers adopts floating structure, and the pressure can be adjusted by spring force. Manual adjustment of clearance, signage, The adjustment range is 1 to 12 mm.
· A brush at the entrance of the paper feed roller to remove impurities from the cardboard surface. A dust mechanism is installed between the two sets of paper feed rollers for sucking away impurities on the surface of the cardboard.
To improve the quality of printing.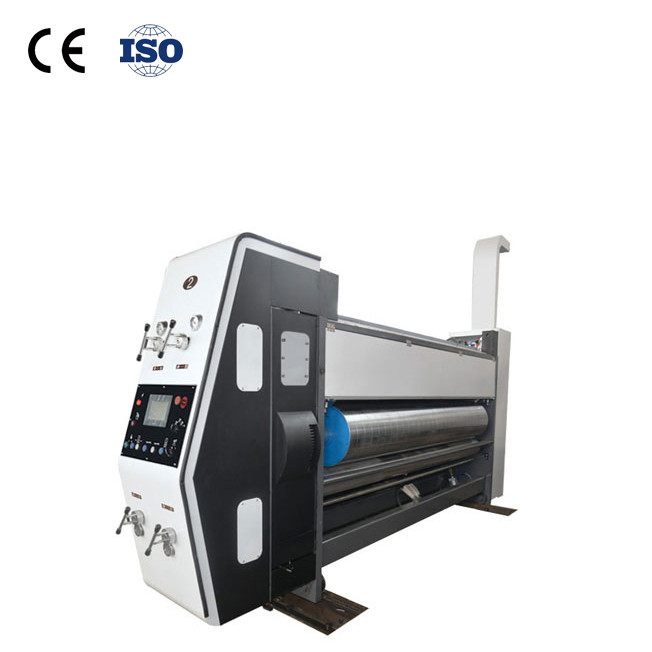 Printing unit:
· Printing roller: steel cylinder, surface grinding, hard chrome plating. Diligent balance correction, the link is stable.
· The axial adjustment is manually adjusted, and the axial adjustment range is 10mm.
· Ratchet fixed roll shaft. The full version of the grooved loading and unloading printing plate, the foot switch electric control is reversed.
· The gap of the presser roller is manually adjusted, and the label is displayed. The adjustment range is 4~12mm.
· Rubber roller printing system. The surface of the steel pipe is covered with wear-resistant rubber, and the medium and high special grinding. The gap is electrically adjusted, digital display, and the adjustment range is 0 to 6 mm. (selected With: scraper ink system)
· Grinding anilox rolls: with a separate motor-driven idler to ensure ink is not known during shutdown. Network cable: 160 to 500 optional. (Optional: Ceramic Anilox roller)
· The paper feed ring can be quickly moved and locked. (Optional: Full vacuum Fu-delivery system)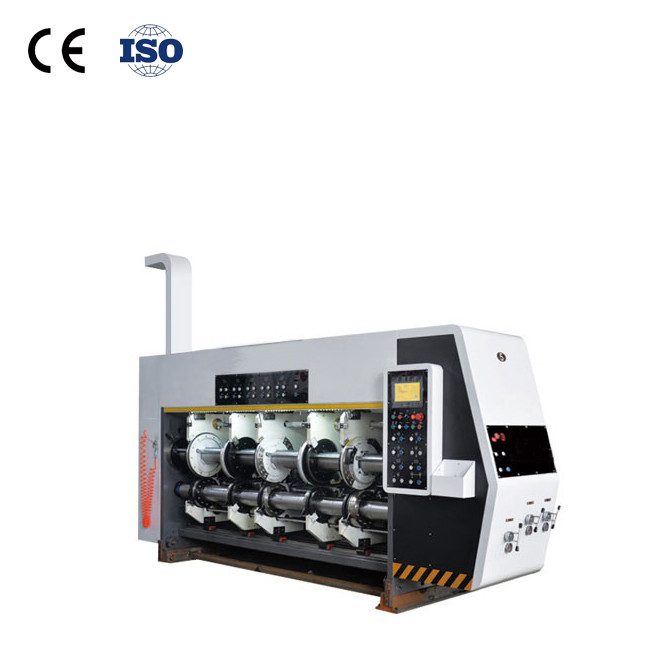 Slotting unit:
· Pre-pressure wheel device: electric linkage type slotting, pressing line and pre-pressing are completed once.
· Electric adjustment of the length, width, height and folding of the carton, digital display.
· The pressure of the pressure roller is manually adjusted, and the dial displays the adjustment value.
· Slotting knife thickness 7mm, alloy steel material, zigzag heat treatment toothed grinding, sharp edge, high precision.
· The slotted phase is adjusted by computer electric numerical 360 degree.
· Add a hand hole holder.
· Install a chain control switch in the slotted section to achieve emergency stop, stop or resume paper feed.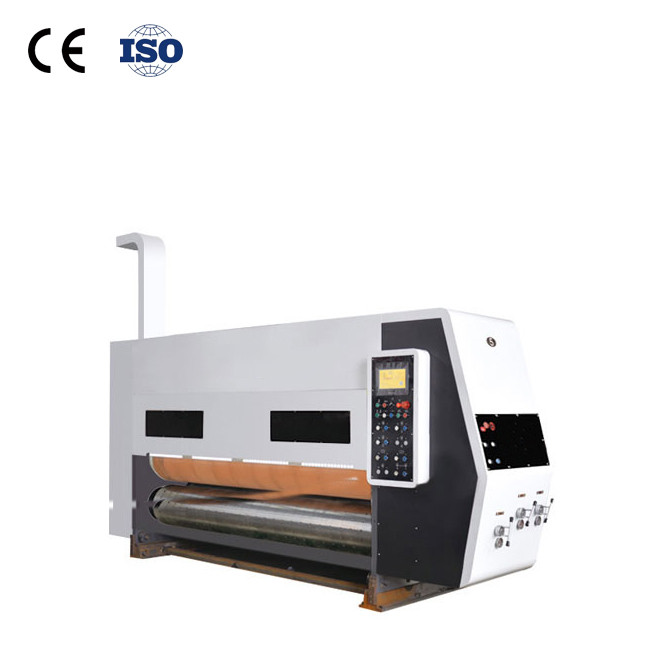 Die cutting unit:
· Manually adjust the die cutting pressure gap.
· The pad roller automatically traverses the swimming device.
· Imported quick-change rubber pad and wear resistance.
· Speed ​​difference compensation system ensures line speed consistency and guarantees accuracy.
· Pad grinding mechanism to extend the life of the pad and reduce consumption.